| | | |
| --- | --- | --- |
| | 26 February 2005 | |
The Week That Was
Or: How I lost my gumption, my wherewithal, and the short-term ability to remember where my plane was landing
Monday night I was visiting my grandparents in Lynchburg, Tennessee, where the salads are iceberg lettuce and ranch dressing, which is the only thing I dislike about Lynchburg, Tennessee.

Tuesday night I was in Shreveport, Louisiana, for a gig at Centenary College, where a cushioned porch swing is hung beneath a picturesque gazebo, and sometimes it's said the students smoke there.

Wednesday night I was in Baton Rouge, Louisiana, where the rainfall swelled the swamps to the bottom of their bridges and my gig at LSU was cancelled due to I don't wanna talk about it.

Thursday night I was in Fayetteville, Arkansas, the Wal-Mart epicenter of the world, where my gig at U. of Arkansas was cancelled due to I REALLY don't wanna to talk about it.

Friday night I was in Manhattan, New York, to tape for Def Poetry Jam.
And don't even MENTION Houston, Texas…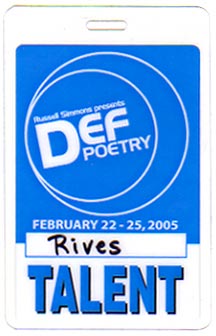 This was my third time back at Def Poetry Jam, and the show's fifth season. My car picked me up at La Guardia and dropped me off in front of the Edison Hotel with about 13 minutes to spare before rehearsal, and that's why I still smelled like Arkansas and a random Atlanta layover.

The most specific thing I can say about Def Poetry Jam is this: The makeup lady has a kit with about 32 different skin tones in it for base, or foundation, or whatever the heck that stuff they put on your face is. The tones range from, say, "Notorious B.I.G." to about "Halle Berry," which is still quite a few shades darker than "Token White Boy," which is what the makeup lady has to fish around in a drawer to find for me.
The Green Room at The Supper Club is blue. This is the hallway you walk through to the stage, like a gladiator—except for that makeup. There are stars and crescent moons woven into the carpet, but the arrow is made of masking tape.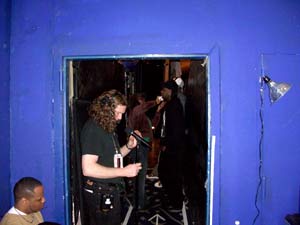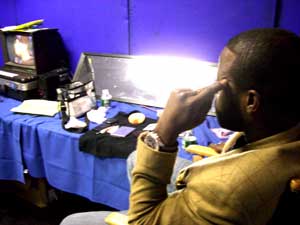 Black Thought from The Roots watching the monitor and waiting to go on.
J. Ivy rehearsing by the dumpsters just off the Green Room. How's that for glamor? A lot of the veterans warm up here because it's the only place to pace. We mutter and pass right through each other like ghosts and sometimes we spook a rat. Last season a Def Jam poet had to take an emergency pee in a mop bucket.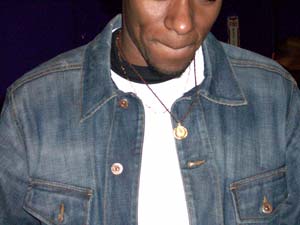 Mos Def. 'Nuf said.
Four straight nights of fruit plates, Lincoln Town Cars and colossally big-ass bodyguards. Just who pays for all of this, anyway?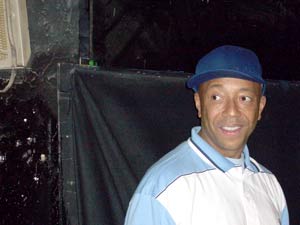 | | | |
| --- | --- | --- |
| | 23 February 2005 | |
Andrea Gibson was a consensus kick-ass at Nationals last August. Sonya Renee obviously thought so too, and she quotes Andrea in her Poet Profile (Feb. 22, just below) in response to the question What's your favorite line, right now, by someone else?

So I e-mailed Andrea, and she graciously sent me an excerpt from her poem. Turns out—it's different from how Sonya remembers it and… I'm intrigued like an alchemist how often that happens in the world of spoken word.

Do you remember verbatim all those adorable lines from other poets you're always quoting? Yeah–me neither.


excerpt from "life doesn't rhyme"
it's tasting your rapists breath
on the neck of a woman who loves you more
than anyone has loved you before
than feeling holy as jesus beneath the hands
of a one night stand who's calling somebody else's name
it's you never feelin more greedy
than when you're handing out dollars to the needy
it's choking on your beliefs
it's your worst sin saving your fucking life
it's the devil's knife carving holes into your soul
so angels will have a place to make their way inside
life doesn't rhyme

–Andrea Gibson
| | | |
| --- | --- | --- |
| | 22 February 2005 | |
Sonya Renee won the Individual Poetry Slam championship at Nationals last year, and no one else did. Sonya Renee has always looked to me like she could do a bad-ass doo-wop. Sonya Renee called me out of the blue one time, and immediately made me wish I knew her better.

Find out more at: www.sonyareneeis.com
- -The SW Poet Profile- -

THIS MONTH: SONYA RENEE



1. Favorite line, right now, of yours:

SONYA: "In jeans it's like I was born the color of denim!"

2. Favorite line, right now, of someone else:

SONYA: That would assume I listen to other people's poetry! HA! Sike, I am still living off Andrea Gibson saying "Let the devil carve holes in your soul so the angels will have a place to rest" at nationals!

3. It's been __________ since the last time you __________:

SONYA: It's been 2 months since the last time I bought a new wig.

4. You knew it was a good/bad gig (pick one) when:

SONYA: I knew the gig was bad when the only three people in the venue were communicating in sign language.

5. The proudest money you ever made was:

SONYA: My 1st forty dollar tip from two guys drinking at the bar when I was a cocktail waitress.

6. When I say "swingset," you think (where?):

SONYA: Alameda California. I was 9, a very dark Hawaiian girl's swing behind my house. I thought she had the longest hair of any black person I had ever seen.


7. When I say "covet," you think (what?):

SONYA: My brown hat with my monogrammed pink shirt, my brown skirt and pink and brown pumps!

8. When I say "credit," you think (who?):

SONYA: Very Bad Beacon Score, oops not MY credit. DC poetry scene that welcomed me and nurtured me!

9. When I say "habit," you think (…?):

SONYA: Good Porn..oops did I say that?

10. What's on God's iPod?

SONYA: 13 of Nazareth's "FallOut Shelter," Meshell N'degeocello's "Comfort Woman" and DC artist Courtney Dowe's cd.

p.s. (anything else?)

SONYA: I think Rives is sooooooo cute and it's an honor just to be nominated…Oh wrong speech! Be Abundantly Blessed!!!



NEXT MONTH: BUDDY WAKEFIELD



| | | |
| --- | --- | --- |
| | 20 February 2005 | |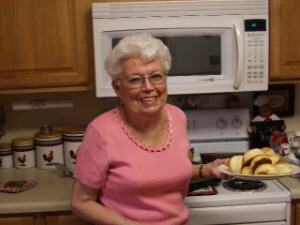 This is my grandma, Velma, about to feed me biscuits in Lynchburg, Tennessee. I'm visiting "for a spell" in between gigs in Missouri and Louisiana.

Grandma was concerned that the biscuits looked a little burned on the bottom in this picture—but they weren't. They went down slicker than deer guts on a doorknob, y'all.
| | | |
| --- | --- | --- |
| | 19 February 2005 | |
I did a gig at Rolla University in Missouri last night. It's a geology and engineering school, and the guys outnumber the ladies 8-to-1. The school mascot is a miner with a six-gun in one hand and a slide rule in the other. No kidding. It's the kind of place where 10 people fight over who gets to set up the karaoke sytem, but then no one wants to sing.
| | | |
| --- | --- | --- |
| | 18 February 2005 | |
- - Word of the Week - -

sesquipedalian

Pronounced: "SES kwi puh DALE yun"

(In Latin, literally "a foot and a half long.")

Sesquipedalian is an adjective meaning "uses big words."
| | | |
| --- | --- | --- |
| | 16 February 2005 | |
The following post was guest-written by Mike Henry.

Mike Henry is the coolest muthafucka on the scene, and that fire is, um, mean.

There's nothing that smells quite like a burned-down building.

It's acrid, but almost sweet, just for a second. After that, you feel it sprinting up into your sinuses, hear it setting up bivouac, laughing in advance at the feeble attempts you'll make later to scrub your shoes. It's a smell you never forget, especially when the contents of the building meant something to you.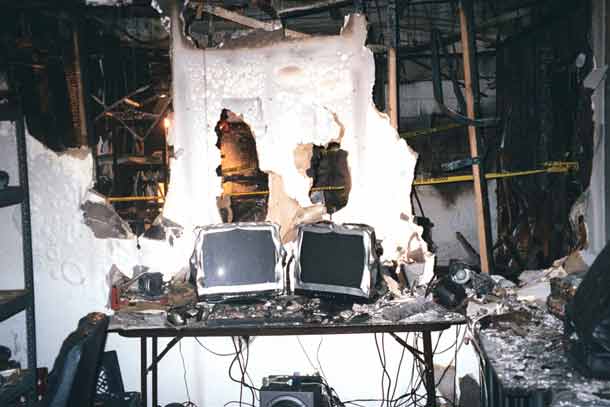 For those gentle readers that don't know, Slam Planet: War of the Words is a feature-length documentary following two teams of poets (from Austin, TX, and NYC) through their summer and on to the 2004 National Poetry Slam. Also features tons of footage from that very event, which a certain team from Hollywood won, and interviews with lots of cool folks including Marc Smith, Russell Simmons, Norman Lear and many more.
Two weeks ago, and see, here's where the story comes back around, there was a fire. Started in the room next door to our edit suite and wrecked everything we own. Everything we own now looks like this: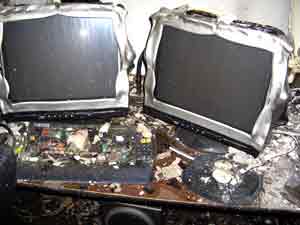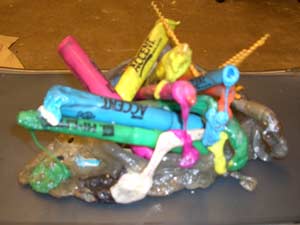 So, I'm writing to let everyone know that we're all still alive down here in Texas, and that this movie is going to be amazing. And that if you'd like to help us survive this fire, know that we need it, we appreciate it, and that you can hook us up via PayPal.com. Send to: [email protected]. Don't think that a couple of bucks won't make a difference. It will.

Thanks. Over and out from Austin.

—mike henry
| | | |
| --- | --- | --- |
| | 15 February 2005 | |
Okay—I will be taping for HBO's Def Poetry Jam on Friday, February 25th during the 6:00 pm show at The Supper Club in Manhattan. Sorry—I don't have any more tickets to give out, but I will post directions for how to catch the show (and others that tape that week), just as soon as I get them from the notoriously-tardy DPJ.
| | | |
| --- | --- | --- |
| | 14 February 2005 | |
Ithaca and Elmira
I did gigs at Ithaca College and then Elmira College over the weekend. It was snowing sometimes in both places, or sometimes just about to snow.

(I kept reciting to myself the poem "Ithaca" by Constantine Kavafis, but I didn't perform it. It may be the patron-poem of touring poets, though.)

After the Ithaca College show, the organizers took me to a Cajun restaurant and I stepped outside midway to watch the snowfall. I'm not very snow-savvy, and at first I thought that the ice was beading into pearl-like strings in the trees, but then I realized they were necklaces leftover from Mardi Gras.
Try the Ithaca Ginger Ale.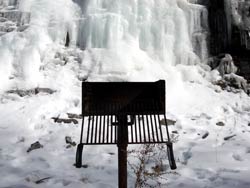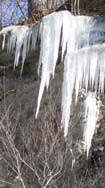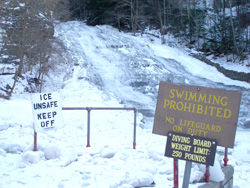 I liked Buttermilk Falls, just outside of Ithaca, because it's the least-steep waterfall I've ever seen. A few degrees more gradual and you'd have to call it something else, or lesser, like a "downhill river." A few degrees colder, and you'd have to call it "solid." If you visit in the winter, it's called "trespassing."
If you slip, it's called "frikkin freezing."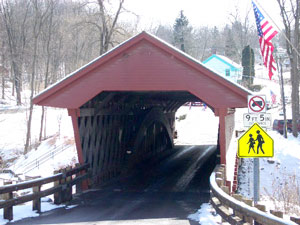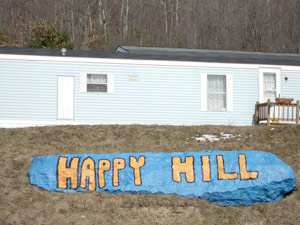 On the left is the oldest living covered bridge in the state of New York. On the right is the most optimistic trailer park.
And I know trailer parks.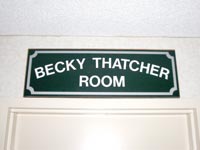 Hotel clerk: "We'll put you in the Becky Thatcher Room!"

Me (joking): "Really? Because I kinda had my heart set on the Tom Sawyer Room…"

Hotel clerk (very sincere): "Oh, I'm so sorry, sir—the Tom Sawyer Room is booked straight through the weekend."
Turns out: Elmira was the summer residence of Mark Twain, and the whole town has a Twain theme. This is the hut where Twain did some of his most famous writing, so I paid a little homage, but nothing orthodox.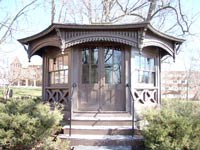 What are the four most all-American words you can string together and paint on the side of a building for the national sun to rise behind?

Land of the free? Nope.

Home of the brave? Nope.

Red, white and blue? Nope.

It's: Huck Finn Little League.
| | | |
| --- | --- | --- |
| | 13 February 2005 | |
Recent contributor Buddy Wakefield won the Individual World Poetry Slam in Worcester last night. That's two straight years (wait—"straight?") in the two-year-old event. I wish I'd been there to heckle him…but I had a real job. I mean: a college gig in another state.

Gargantuan congrats to The Buddy.
| | | |
| --- | --- | --- |
| | 11 February 2005 | |
- - Word of the Week - -

tibia

Pronounced: "TI bee uh"

Tibia comes from the Latin word tibia which, besides meaning "shinbone," also means "flute," because the Romans made wind instruments out of animal bones.
"Listen–they're playing our dog…"
| | | |
| --- | --- | --- |
| | 09 February 2005 | |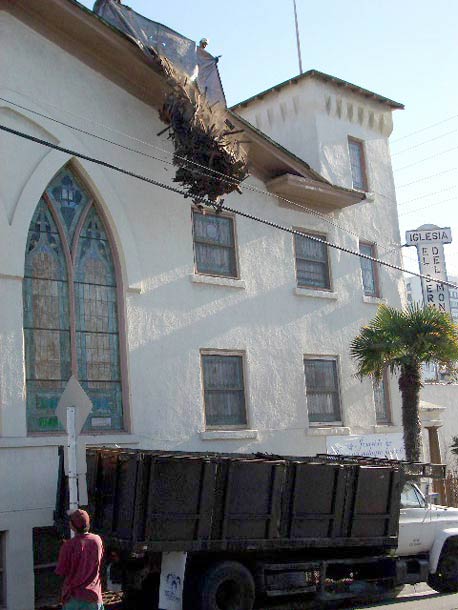 Oscar and Roberto heave a load of old shingles off El Sermon Del Monte church. Oscar and Roberto both have ash marks on their foreheads—Ignacio on the ground does not. Father Gamboa won't permit anyone on the roof who didn't attend Mass this morning, Ash Wednesday, and Ignacio skipped it to pick up the dumptruck in La Brea, so that's how he landed the safer job of raking the sidewalk. Jesucristo tiene un milagro para ti… reads the banner on the wall by the palm tree. Entra a su iglesia.

| | | |
| --- | --- | --- |
| | 08 February 2005 | |
Yesterday's post got a carnal amount of "fan mail" …



"Anonymous" wrote:

In a few years, I'm going to make Derrick Brown my Baby Daddy. We're going to have a beautiful kid, and when our beautiful kid poops, it'll poop marbles and pearls. We'll play with the marbles and wear the pearls.

p.s. Do NOT put this on your website, pinhead!
"Pinhead" wrote:

Oh c'mon—I totally want to post that. What if I name you "Anonymous?"
Anonymous wrote:

No. Now go back to your cave and grow up.
Pinhead wrote:

What if I name you "Anonymous" AND tell you something dreamy Derrick said about you one time, in Corpus Christi, looking out over the Gulf of Mexico, 50 meters down from a bronze, life-sized statue of Selena?
Anonymous wrote:

Does "dreamy" modify "Derrick" or "something?"
Pinhead wrote:

Um…both?
Anonymous wrote:

Deal. But pay up NOW, bee-yotch.
| | | |
| --- | --- | --- |
| | 07 February 2005 | |
"Born in the Year of the Butterfly Knife" by Derrick Brown was my favorite poetry book of 2004. There—that's for everyone who asked, and for anyone who cares. My blurb for "Butterfly Knife" was going to say something like:

This book should be titled "Read 'Em and Weep." Not because the poems are that good (they are) but because you're not.
Then I decided I was way too biased (and insulting), so I kicked the review to Buddy Wakefield. Buddy Wakefield is the reigning World Poetry Slam champ—or he will be for at least for the next 5 days (370 days if he defends successfully on Feb. 12 at iWPS). Turns out Buddy is pretty ga-ga for "Butterfly Knife" as well.

So for two skyrocket websites, hit buddywakefield.com to wish our boy well in Worcester, and then click yourself over to brownpoetry.com for a tour through the unglib realm of Derrick Brown, to snag his book or to wish him, today, a happy birthday.
Derrick Brown is gondolerious.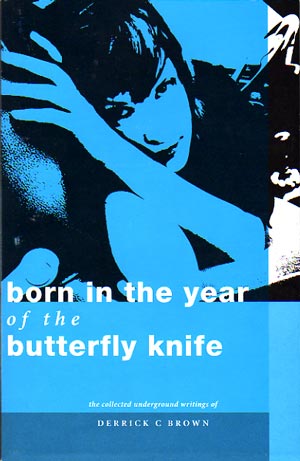 Derrick Brown runs an influential tree house with his brothers Donnie Darko, Napolean Dynamite and the makers of jet fuel. They hide out in warm socks between thick white blizzard breaths and choir claps, preserving every smile anyone ever took away from you. They sling-shoot Yes bullets at girls (girls are allowed) and dreamers. If Derrick ever grew a mustache he would get away with it. He's that cool. There are definitely some of his old works slipped into this collection which expose Brown's writing weaknesses, but his consistent lengths of genius easily outweigh the momentary lapses of reason. "Born in the Year of the Butterfly Knife" is among the top three books of poetry by a performance poet I have ever read. It may be the best.

—Buddy Wakefield
Derrick Brown kisses girlies.
HOT FOR SORROW
I don't want to be the best lover you've ever had
I just want to be your favorite.

File me under hot for sorrow.

When I couldn't find your picture,
I ate unwanted videotape and dreamt.
When you appeared, soft-focused and outlined in lasers,
embarrassed of your little T-Rex arms and seaweed hair,
we danced on the ceiling like you know who
until it was time to walk you home from naked class.

This crosseyed sniper
misses you so much.

The heavy solo night music
tells me what is buried beneath:

Ambulances hooked on one ballad.
A sky turning red over its opponents.

Night melodies of helicopter switchblades
slice through this city.

The noise tells me there is still crime down there.
5000 air machines cannot stop crime.
5000 searchlights cannot stop crime.
5000 police fully moustached, with a John Wayne box-set,
in a town of priests,
cannot stop crime.

I now know that what I feel for you is crime.

This is why I like the sound of police choppers:
Not because it makes me feel safe and watched over
but rather because it is the music of war
and tonight
they were playing our war.

Derrick Brown is a commando of excellent.

—Derrick Brown
| | | |
| --- | --- | --- |
| | 06 February 2005 | |
julbugxoxo writes in to say:

Hello poet, I wanted you to know how much I love the kite poem. It's my fav, but here's an idea. I think you should write a poem about me. My name is Julie and like hot dog dogs. Just an idea.

| | | |
| --- | --- | --- |
| | 05 February 2005 | |
- - Word of the Week - -

googol

Pronounced: "GOO gol"

Googol is the name for the number 1 followed by 100 zeros, or 10100, or:

10,000,000,000,000,000,000,000,000,000,000,000,000,000,000,000,000,
000,000,000,000,000,000,000,000,000,000,000,000,000,000,000,000,000.

The word "googol" was invented in the late 1930's when Columbia University mathematics professor Edward Kasner asked his nine-year-old nephew Milton to suggest a name for a really big number. Milton also came up with "googolplex," which he defined as the number 1 followed by as many zeros as you could write before your hand got tired. Dr. Kasner decided a "googolplex" should be 1 followed by a googol of zeros, or 10googol, which is bigger than the number of particles in the known universe.
Seriously—that's a big fucking number.
| | | |
| --- | --- | --- |
| | 04 February 2005 | |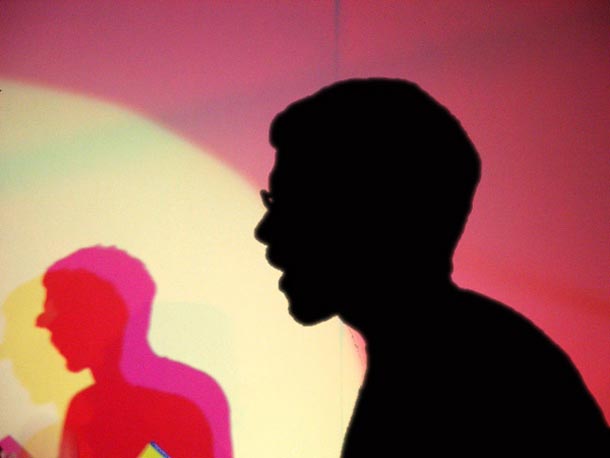 Steve Connell (2003 National Poetry Slam champ, Team Los Angeles) doing soundcheck for opening night of his "Two-man One-man Show" with Sekou tha Misfit (also 2003 Team L.A.) at the Greenway Court Theatre last night in Hollywood, California.
| | | |
| --- | --- | --- |
| | 03 February 2005 | |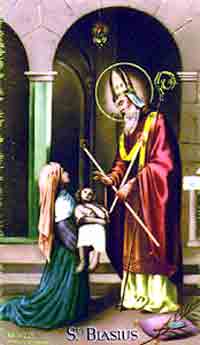 FIVE THINGS TO KNOW
ABOUT SAINT BLAISE:
1. Today is his Feast Day.

2. He is the patron saint of throat ailments and wild animals.

3. His name sounds cool.

4. For the Blessing of Saint Blaise, a priest holds two crossed and unlit candles against the throat of the supplicant and recites: Through the intercession of Saint Blaise, bishop and martyr, may God deliver you from ailments of the throat and from every other evil, amen.

5. To see what a Saint Blaise Blessing of the Throat Kit looks like, click here.

| | | |
| --- | --- | --- |
| | 02 February 2005 | |
Tourettes Without Regrets got pig blood on my shirt.

When I featured there last October, a guy in a George W. Bush costume got into a pig heart duel with a guy in a Satan costume, twelve pig hearts each. When Satan missed on his last shot, his pig heart hit me in the chest, which sorta sucked because I was wearing a new shirt and I wasn't supposed to get pig blood on it.

Tourettes Without Regrets is hands-down the most hard-core poetry venue in the nation. Every month 400 spectators pack a theater in Oakland, California, for an open mic variety show from the dark side. The night I was there I witnessed: an erotic haiku contest; a freestyle battle that unhinged every rapper but the winner; an eight-year-old girl winning the slam while her stripper mom signaled time with a "volunteer bra;" and the emcee explaining to a fire juggler the following:


"We run a very tight show here. So get up, juggle, juggle, juggle, light your crotch on fire and then sit down."
That would be the poet Jamie Kennedy (www.suicidekingsspokenword.com), who is so controversial by now you can easily misplace the notion that he's extraordinary. During last January's show, Jamie passed a card around and asked his audience to write down their favorite line of the night. Or their favorite line period. Or whatever. Then he mailed it to me, and I'm posting it here—just in time for tomorrow night's Tourettes Without Regrets. Alcohol, by the way, is served.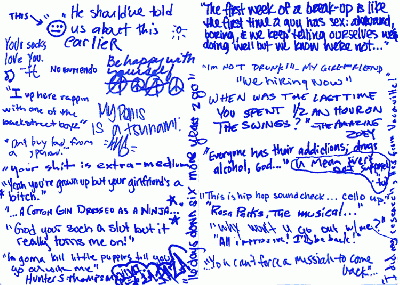 Click to enlarge
Jamie Kennedy is my favorite Scientologist