| | | |
| --- | --- | --- |
| | 23 February 2011 | |
Not Pasadena, California
This is not an elbow in the geek netherworld labyrinth of tunnels that do not exist under the CalTech campus. If you could take a fine tour of the storied tunnels, which you cannot, you would customarily be guided by a "mole"--a resident of Blacker House--which I was not.
| | | |
| --- | --- | --- |
| | 18 February 2011 | |
From the in-box
About two and a half years ago I was in a severe car accident. I was thrown from the sun roof at any where from 80 to 120 mph. Due to the impact of hitting a tree and the concrete, I broke both of my legs and now I have a rod from my knee to my hip. I punctured my lung, my liver, I broke all my ribs on my right side, broke my collar bone in three places, and had seven speratic bleeds in my brain. I was on life support for 9 days and in a coma for 7. My biggest everyday obstacle that I suffer from and what your poems have helped me through, is my head injury. I have something called short term memory loss or Anterograde amnesia. Basically, your poems (Kite and Levitate in particular) have helped me improve and become a little of what I used to be--human and normal. I have gotten to where I can recite both pieces with little hestitation nor mistakes. I thank you for your interesting thoughts and creative words. --J
---
[Obviously J wins the hardcore email narrative award. He also shares something in common with H (see below): he's altered my lines, maybe inadvertently. The original line goes "My weird mind wanders and my brave heart breaks"...]
| | | |
| --- | --- | --- |
| | 14 February 2011 | |
From the in-box
A present for Alex. If you can't read it, I altered and cut some of your words from 'Winsome' I'm sorry I couldn't fit it all onto one kite!! --H
---
[I particularly like the masking tape on this one. Plus, H has decided she needs the kite from "Kite" but the words from "Winsome"--which I've never actually written down and which H has rewritten from the kitchen dancer's p.o.v. Brava.]
| | | |
| --- | --- | --- |
| | 6 February 2011 | |
Pittsburgh, Pennsylvania
Women and children first. And then the rest of the yinzers.
| | | |
| --- | --- | --- |
| | 2 February 2010 | |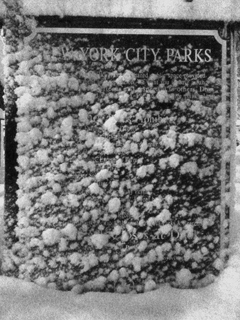 NYC
Trespassing tip for beginners: On nights of heavy snow, most NYC parks leave their gates open for the snowplows. Or they simply can't close their gates because of drifts. Either way--you're in.