| | | |
| --- | --- | --- |
| | 30 March 2005 | |
Seven hours after the 2004 Individual World Poetry Slam finals, I watched Buddy Wakefield sleep. The previous two nights he had jerked around sometimes, like a dog dreaming of rehearsing a poem, and I wondered if a big-ass trophy on a Holiday Inn nightstand would make a difference. It did, and Buddy Wakefield slept like a champ.

Find out more at: www.buddywakefield.com
- -The SW Poet Profile- -

THIS MONTH: BUDDY WAKEFIELD



1. Favorite line, right now, of yours:

BUDDY: Hey, wanna do it in the bushes?

2. Favorite line, right now, of someone else:

BUDDY: "I have had the wind knocked out of me, but never the hurricane."—Jeffrey McDaniel

3. It's been __________ since the last time you __________:

BUDDY: Eleven years; studied Freud, but I really think he was onto something.

4. You knew it was a good/bad gig (pick one) when:

BUDDY: I knew a gig was good when no one could stay in their seat anymore; when words were able to do what is usually only accomplished by great music.

5. The proudest money you ever made was:

BUDDY: It's a tie:

When I was in 3rd grade in Sanborn, NY, I would go next door to Racki's Auto to sweep & mop the floors. I saved up $25 to buy Castle Greyskull.

The Mont Bellevue, TX Dairy Queen. First job. First paycheck. Couldn't believe I had $250.00 all at once in my hands. Ended up spending it on my first auto accident in that first month after getting my driver's license.

6. When I say "swingset," you think (where?):

BUDDY: North Tonawanda, NY. Next to our small brick apartment building. 5 years old. 5-year-old girl sitting on my lap in the swing. French kiss. Actually we just laid our tongues inside each others mouths like we were told, then my stepsister, Lori, sort of mashed our heads around. Lori the Pervert, wrote, produced, directed and manipulated the whole scene.


7. When I say "covet," you think (what?):

BUDDY: Baby Jesus.

If it has to be a "what", then I think candle wax prayer hands with a wick poking out of the middle finger at Anna Mylar's (my babysitter) house.

8. When I say "credit," you think (who?):

BUDDY: I'll fucking burn you down, MBNA America, you blood-sucking clots. I hope you and all your shareholders rot in roasted pig flesh shit snot hell, twice. I was only 18. I hadn't taken Finance 101 yet.


9. When I say "habit," you think (…?):

BUDDY: I will fucking beat up your grandchildren with a rake, Discover Card and Chase Visa, you spineless dead-hearted pseudo-human canker sores. You are worthless to evolution and I hope you are killed by people as classless and cheap as yourselves, like parking enforcement.

10. What's on God's iPod?

BUDDY: –"Seven Spanish Angels" by Willie Nelson and Ray Charles
–"Take Me Back" by Van Morrison, and Jennifer Jason Leigh's version in the movie Georgia
–Jerry Jeff Walker's version of "Mr. Bojangles"
–Billy Joe Shaver's "Tramp On Your Street"
–"Brownsville Girl" and "Things Have Changed" by Bob Dylan
–"The Word" by Regie Gibson as it is on the Urbana recordings in New York City.
–"We Are the World Part II" written by God, involving Ween, The The, Yo La Tengo, Tool, Blackalicious, Jerry Lee Lewis, Gomez, The Flaming Lips, Tina Turner (dressed in her Beyond Thunderdome outfit), Three Dog Night, Nick Cave, Air, Tom Waits, Sinead O'Connor, Leonard Cohen, Morphine, Chuck Berry, The Beta Band, Stevies Nicks and Wonder, For Squirrels, Dobie Grey and Kenny Rogers.
–"Wish You Were Here"
–The Polyphonic Spree

p.s. (anything else?)

BUDDY: Yes. Everything is out there. That's why they call it "Everything".



NEXT MONTH: POETRI



| | | |
| --- | --- | --- |
| | 28 March 2005 | |
How old is "old school?"


Well, today would've been the 100th birthday of my early role model, Mutual of Omaha's Wild Kingdom host, the fearless and very gangsta Marlin Perkins.

Also: Hall of Fame performance poet Taylor Mali hits the big FOUR-OH.
| | | |
| --- | --- | --- |
| | 26 March 2005 | |
My second-favorite moment at Graceland was when the cashier at the Chinese restaurant down the street gave me a free order of french fries with my vegetable lo mein. And not because she said it "flinch flies" (although flies do flinch more, or better, than any other animal, don't they?). And not because french fries are an untraditional side order on a Chinese menu. And not because the total caloric impact was aptly Elvis-like.

I just thought it was a nice gesture.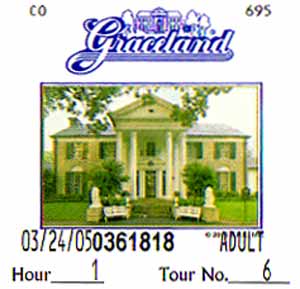 My first-favorite moment at Graceland was when Jermaine, the Heartbreak Hotel shuttle bus driver, made a detour to a post office on the way to the airport so he could mail a package to his boyfriend in Atlanta. The Mississippi delta was shining like a National guitar, the magnolia trees in the parking lot were having their first overt day of the year, and Jermaine did leave the radio on for us while we waited. I wasn't a Heartbreak Hotel guest—I was scamming a ride, in fact—so I had nothing to quack about. When the couple from Fort Lauderdale complained, Jermaine said: "You know—it's Easter Thursday! Y'all need to learn to be more compassionate!" I know I was four dollars compassionate to him when he dropped us off, but that was partly for the show.

A lot of people on the outside told me that Graceland is overpriced. No one gaping at the green shag carpet on the ceiling of the Jungle Room seemed to think so. I'm not particularly into Elvis, but I'm down with exorbitance. I bought the Platinum Ticket—$27.00—and had a pleasant day.

And I don't think idolatry is ever a rip-off, if you do it right.
| | | |
| --- | --- | --- |
| | 25 March 2005 | |
Best curse from Chapter 4 ("Curses Against Animals") in "Folk Sayings of the Gypsies" (Lucaciu, 1909).
Yes, fleas, little fleas—from the house have I taken you, into a stolen box have I put you, charmed, drowned, cursed, thrown into a box, charmed at new moon now, may you become the devil's own, may you become numbed and stiff—in the nine countries—beyond the nine seas—for there they are waiting for you—at spread tables—with torches lit up. Amen!
| | | |
| --- | --- | --- |
| | 20 March 2005 | |
- - Word of the Week - -

hibernacle

Pronounced: "hi BURN uh kul"

The place where an animal hibernates in the winter. And vacates in the spring.

Happy spring.
| | | |
| --- | --- | --- |
| | 18 March 2005 | |
Somewhere in Arkansas is a town called Bald Knob. Somewhere in Bald Knob is a pawn shop. Somewhere towards the back of the pawn shop is a display case. Somewhere towards the front of the display case was a ceramic figurine of an apple for a dollar.

Somewhere in the Wislawa Szyborska section of the Lyon University library in Batesville, Arkansas, is a ceramic figurine of an apple.
| | | |
| --- | --- | --- |
| | 16 March 2005 | |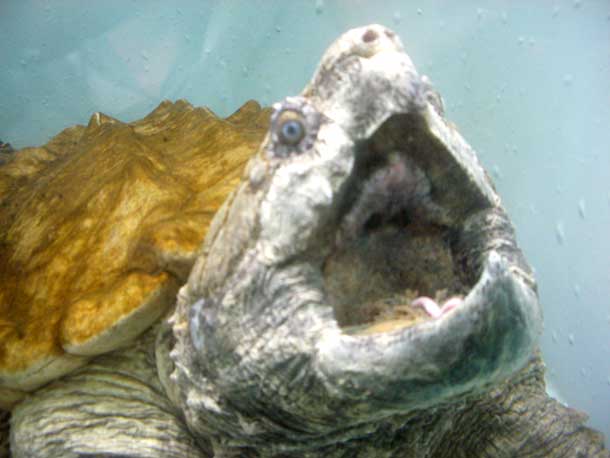 This is an alligator snapping turtle at Clyde Peeling's Reptiland in Pennsylvania (see March 11, below). Alligator snapping turtles have a small pink tongue that looks just like a worm. They lie on the bottom of their ponds and lakes, mouths gaping, and waggle their worm tongues at the upper water. When a curious fish comes by to investigate—the alligator snapper gets supper.

I'm posting this pic because:

1. People often ask me about my performance role models, so there ya go, and:

2. CONFIDENTIAL TO MULBERRY BROOM: This, in a pinch, could possibly be considered "waiting with baited breath." Everything else is "bated breath." But chronically don't just take my word for it. Say hello to my little friend.
| | | |
| --- | --- | --- |
| | 15 March 2005 | |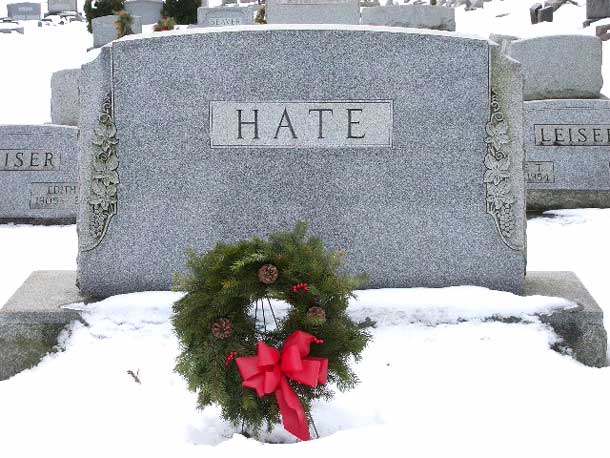 Hate is dead by the way, which is awesome. Pass it on.
| | | |
| --- | --- | --- |
| | 12 March 2005 | |
What is that feeling when you're driving away from people and they recede on the plain till you see their specks dispersing?—it's the too-huge world vaulting us, and it's goodbye. But we lean forward to the next crazy venture beneath the skies.

—Kerouac, On the Road, (it's his birthday)
| | | |
| --- | --- | --- |
| | 11 March 2005 | |
Philadelphia—Lewisburg, Pennsylvania (cont.)
I saw the first two (pictures, I mean—see the previous entry) at the Mutter Museum in Philadelphia, where your world-class anatomical abnormalities go when they're cut out of you, sawed off of you, or kill you.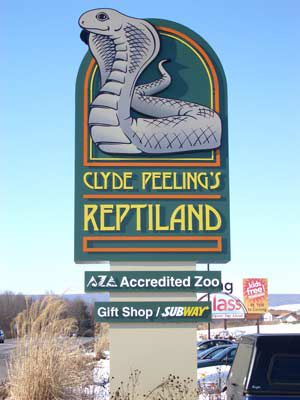 I saw the other critters at Clyde Peeling's Reptiland just off I-80 in central Pennsylvania.

I'm a sucker pilgrim for pretty much any roadside attraction as it is, but I really thought Reptiland had something special. A made-up name, garish tropical animals in a snowbound county, a mere 12 mile total detour from my intended route, and it's the brainchild of a guy named Clyde.

There was just one other family in Reptiland with me, and the oldest boy was giving it his best shot, expaining to the rest of his crew about the various snakes in the Elapidae family. I thought:

"Damn— that kid sounds familiar."


Rives website shoplift windchimes
At Bucknell University I was put up at a Psycho-style boarding house on the edge of campus. I let myself in with keys that'd been left for me, I found my room, I ironed my shirt on the board in the hallway, and I noticed that the CHECK OUT TIME IS 11:00 sign was done in needlepoint.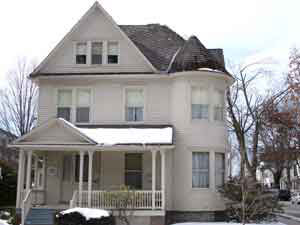 According to the registration book, I was the only guest in the place, and the whole house was run by a "Mrs. Craven," whom I did not invent, and never saw. I heard her, though—I heard Mrs. Craven's mouse-like scritchings from nether rooms all that evening, that night, and the next morning.

Very frankly, Mrs. Craven was creeping me out. I wanted to bring people back to my room after the gig just to see her rigid silhouette materialize at the top of the stairway, creaking: "I'm very sorry, but your friends must wait in the parlor." And I would say to Mrs. Craven: "Where the hell is the parlor?" And Mrs. Craven would reply: Why, it's just off the vestibule."

Rives website shoplift windchimes

My big goal the next morning was to find the tombstone of Christy Mathewson, and all I had to go by was this map from the Bucknell reference librarian:

an expert checkers players, too.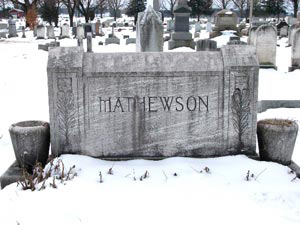 Christy Mathewson was a peerless baseball mega-star in his day, and the question Who is Christy Mathewson? often appeared on IQ tests of the era. If you didn't know, didn't understand, or didn't care—DING—you were jotted down on the Polack edge of the bell curve.

There's a legend at Bucknell that if you kiss your sweetheart by the grave of Christy Mathewson at midnight, you'll live happily together ever after. I was there solo, exactly at the stroke of noon, whatever that signifies.
| | | |
| --- | --- | --- |
| | 08 March 2005 | |
Philadelphia—Lewisburg, Pennsylvania
Five juxtaposed things I saw the day of my gig at Bucknell University:
1. A plaster deathcast of the original "Siamese Twins," Chang and Eng.

2. The skeleton of a pituitary giant and a normal dwarf.

3. Two star-spangled turtles humping.

4. Two green tree snakes fighting.

5. A peacock flirting with itself.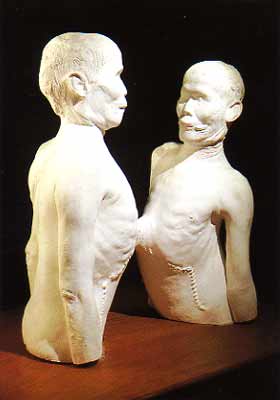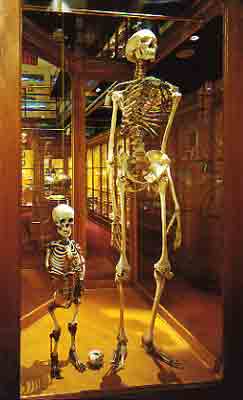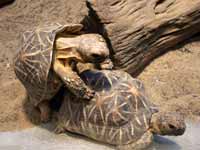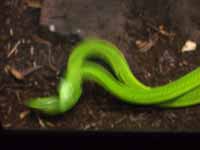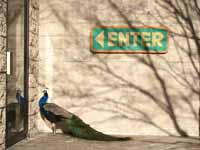 I'd put more but my predatory clockmaker is outside at the moment. I can hear him trying to jigger the doorbell back to mechanical. Maybe tomorrow.
And I know trailer parks.
| | | |
| --- | --- | --- |
| | 06 March 2005 | |
- - Word of the Week - -

wallydraigle

Pronounced: "WALL ee DRAY gul"

A wallydraigle is the littlest bird in the nest, or the last one to fully fledge (fly away).
| | | |
| --- | --- | --- |
| | 03 March 2005 | |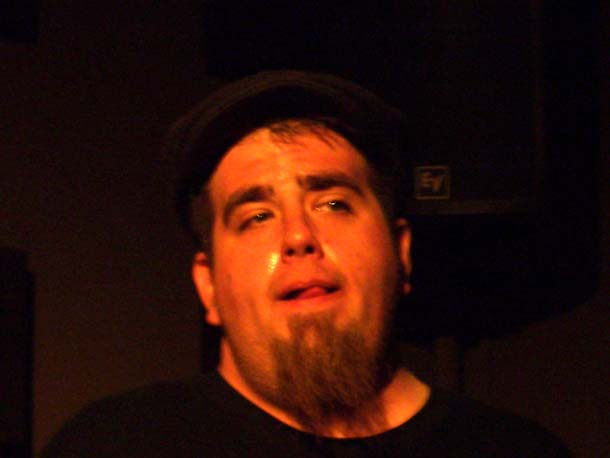 Mighty Mike McGee, 2003 National Poetry Slam Individual Champion, performing at Bar 13 in NYC last Monday. Mike should always be the first guy voted off the island, just so he doesn't have to watch the rest of us snotheads squabble. Plus—he'd quickly run out of pudding and cigarettes. Those two consumables, along with the immmediate airspace over a friend's sofa, are his three major food groups.

Mike McGee licked my scalp, and that's gross.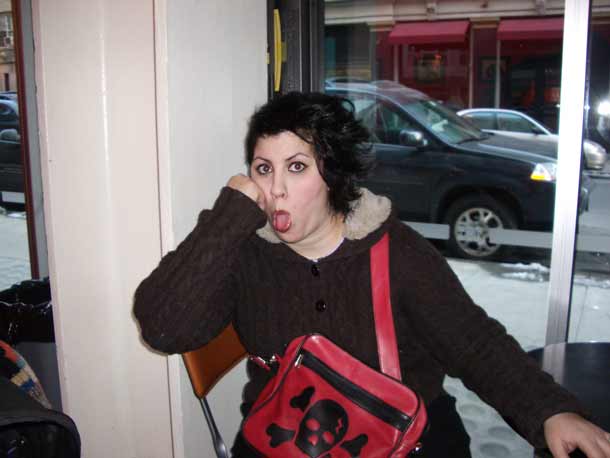 Bar 13 hostess, nationwide slam fave, and O.C. expatriate RAC. In that bag around her shoulder are chapbooks and truth serum, which she shares. This picture was taken with my camera by her daughter, Piper Jane, who daylights as a third-grader in Brooklyn. I either forgot to turn the Red Eye Eliminator on, or RAC has evolved laser vision since she moved to Metropolis.
| | | |
| --- | --- | --- |
| | 01 March 2005 | |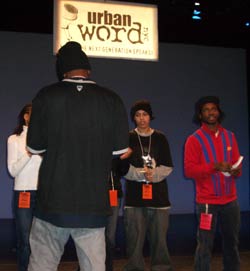 Saturday I emceed the Urban Word NYC teen poetry slam prelims, which is an almost script-like prescription for perspective the day after taping Def Jam (scroll down one post for that chronicle). The hardest part is always trying to radiate a covert, encouraging umpire vibe after every poem. The best part was watching organizer Michael Cirelli choke up when his partner K-Swift started handing out Semifinal passes to the high scorers.

Teen poets who follow this site: Check out urbanwordnyc.com, especially the Word Zone, to see what your Big Apple cohorts are up to.