| | | |
| --- | --- | --- |
| | 22 April 2006 | |
The Big Easy



When I was a kid, I pulled up an old motorcycle gas tank from the muddy bottom of a shallow pond in Tennessee. Someone must have floated it on the surface as target practice and shot at it until it sank.

Swimming inside the gas tank was a flock of bullfrog tadpoles. When I finally wrestled the thing above the water line, most of the tadpoles drained out through the bullet holes, and the broth that was left smelled just like the Mississippi where it flows past New Orleans.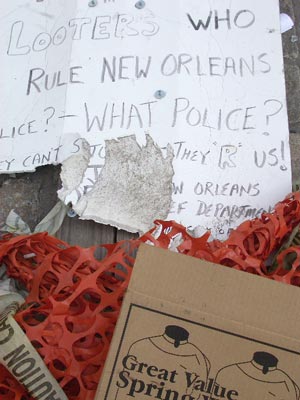 | | | |
| --- | --- | --- |
| | 19 April 2006 | |
Allegory of the Forlornest Light Bulb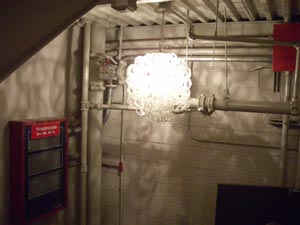 Is this a light bulb, dreaming it's a chandelier?

Or is this a stairwell, dreaming it's a stairwell at the Waldorf-Astoria Hotel?

Or is this an actual chandelier in the actual stairwell of the actual Waldorf-Astoria?

| | | |
| --- | --- | --- |
| | 15 April 2006 | |
ATTENTION NEW ORLEANS: This coming Thursday, April 20, I will be at The Howlin' Wolf as part of an absolutely nasty lineup of poets taking the stage for the Common Ground Collective Katrina relief show. If you're around, roll through, and if you roll through, say hello—I'll be the one wearing the white guy.
| | | |
| --- | --- | --- |
| | 09 April 2006 | |
Hampton Bays, Long Island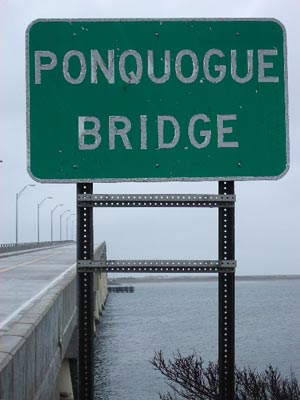 When I got off the train at random in The Hamptons, I asked my driver (who had an '89 Ford Escort and a hand-lettered sign that read "TAXI") for the three most dramatic places in the area. The second choice she mentioned was Punquogue Bridge, (pronounced "pun-kwog bridge"), which sounded a lot like "punk rock bridge", so I said:

Take me there.
The view from Punquogue Bridge, which spans Shinnecock Bay, is as whitecapped and slate-colored as a Winslow Homer painting, but without any evident sharks or wooden dinghies.

In fact, the bridge is so serene the local seagulls—as if on curfew—go to roost there right at sunset, settling down on the very roadway, their raucous beaks tucked gently under one wing, their worldly cares; forgotten.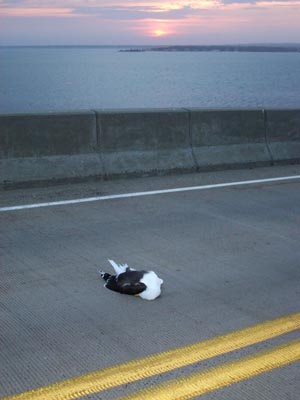 | | | |
| --- | --- | --- |
| | 07 April 2006 | |
NPAARTFHOF, New Haven, Connecticut
That's a 10-foot-long aluminum paper airplane, suspended above the vestibule of the National Paper Airplane Archives, Research & Training Facility, and Hall Of Fame.
I was there to accept, on his behalf, the induction of my friend and former arch-rival Takeshi "Lil' Fuselage" Kaneshiro, who retreated from rainfall and public life following his astounding hat trick victory at the Kuala Lumpur: Distance, Accuracy and Freestyle Shootout of 1999.

That was the year I toyed with coming out of retirement, to take back the title for coach and country, but my conditioning obviously wasn't up to the task and besides—I never liked those pills my sponsor made me swallow.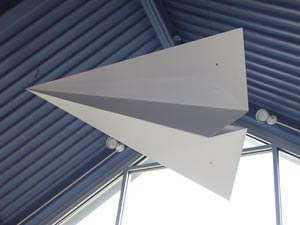 Anyway, it's a whole different game nowadays. When I was inducted into the Hall of Fame back in 1995 (as a competitor) and then again in 1997 (as a designer) there was no Gala Ball beforehand, no signing bonuses, and certainly no auto-da-fe, effigy or otherwise. We did it for the love. Takeshi also did it for the rush, the European whirlwind junkets, and the doe-eyed "airborne origami" groupies, but still: it was a simpler time.
| | | |
| --- | --- | --- |
| | 01 April 2006 | |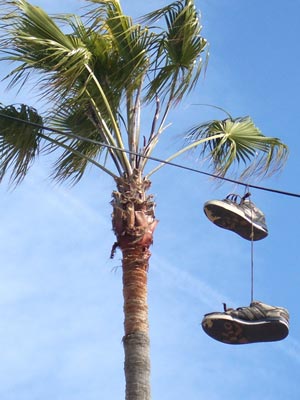 It's April, fool



My hometown is gnarlier than your hometown.