| | | |
| --- | --- | --- |
| | 31 July 2006 | |
| | | |
| --- | --- | --- |
| | 30 July 2006 | |
| | | |
| --- | --- | --- |
| | 26 July 2006 | |
Happy Birthday, Mom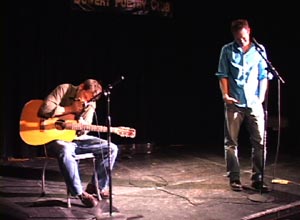 Here's Son #1 and Son #2 performing "Hobo" at the WYSIWYG Talent Show in NYC two nights ago. I might post this performance in the VIDEOS section soon, but at the moment it's audio and editing only a mother could love.

So, if you're our mom—and only our mom—click HERE.
| | | |
| --- | --- | --- |
| | 24 July 2006 | |
Oh, Canada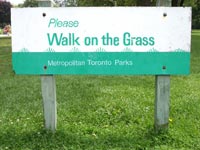 Toronto is sometimes called "The Manhattan of Canada," but the city is way too polite for the title. Plus—I only saw one rat the whole time I was there, and that was a mouse.

Toronto bonus feature: The subway does a three-note chime at every stop, and it's the first three notes of the "Sesame Street" theme song. SUN-ny DAY, all down the line.
Lawn ornaments in Canada are large and inscrutable, much like the country itself. This one is a marker for the clothing optional beach on Centre Island, which I recommend.

Question: Is it still essentially skinnydipping if it's legal? And is it still essentially a beach if it's Lake Ontario?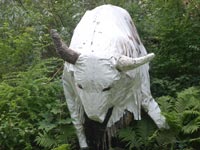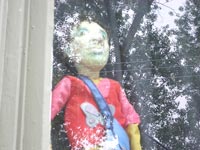 Children in Canada are small and very still, and dress like their dolls. They stay inside mostly, and gaze out wistfully at the big and inscrutable lawn ornaments.
This is a spider on the underside of the Glass Floor Observation Deck of the tallest freestanding structure in the world, the CN Tower.

Which is pretty funny, because you totally thought you were bad-ass.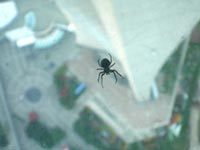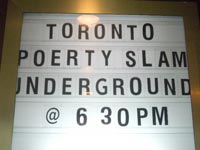 The Toronto poetry slam scene is fresh, and lively, and I genuinely enjoyed myself at the gig, mostly because the poets are solid wordpeople who haven't learned to be loud and self-righteous yet.

And apparently this whole "poetry" thing is still so new to Canada—there's some debate among the underground about how to spell it.
| | | |
| --- | --- | --- |
| | 21 July 2006 | |
On a tip, I took a side trip through the Trumbull, Connecticut, railway graveyard on my way down from a hobo linguistics lecture at Yale this morning, and I'm glad I did (click pics to enlarge). I finally got an up-close look at an Erie-Lackawanna railcar, which, as some of you may know, was an inspiration for my third- or possibly even my second-favorite hobo poet of all time: Eerie Lackawanna.

Eerie Lackawanna was born William "Billy" Harlick in 1901. Accompanied by his on-again, off-again pet mongrel dog Unlonesome, he often set his poems to contemporary music, and they're indelible, I reckon. Just get a look at this excerpt from "Hattie," which was probably sung to the tune of "O, The Saviour is Mighty and Soothing" (traditional hymn):

O, the color of Hattie is blue jeans,
And the flavor of Hattie is wine.
All the favors of Hattie are hijinks,
And the color of blue jeans is mine.
Chorus:

Hattie, O Hattie, won't you sit down again
On my lap for a nap and a happy sip of gin?
Hattie, O Hattie, won't you come back a while?
When you left you bereft me of the breath between your smile.
| | | |
| --- | --- | --- |
| | 19 July 2006 | |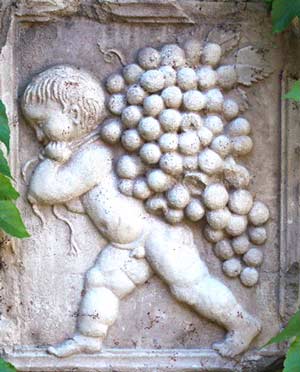 TASTE 3
Favorite taste from the TASTE3 Conference in Napa Valley last weekend: Gourmet (but midget) chocolate milkshake.

Least favorite taste: Jet fuel and metal on a flavor strip.

Favorite "presentation": Sauteed skate in corn pudding and saffron.

Favorite smell: 1939.

Favorite quote from a Silverado Resort and Spa security guard: "Sir, we would prefer it if you could jump rope somewhere else. This tee is for the use of our golfing guests only. And during the DAY."

| | | |
| --- | --- | --- |
| | 07 July 2006 | |
10 ways of looking at a Tennessee
(1 min. film w/ audio)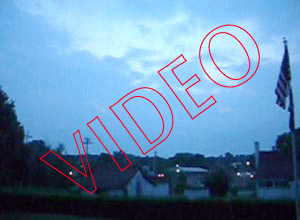 Click the pic to play