| | | |
| --- | --- | --- |
| | 31 July 2009 | |
Versailles, France
"No water so still as the dead fountains of Versailles." Statues too.
| | | |
| --- | --- | --- |
| | 29 July 2009 | |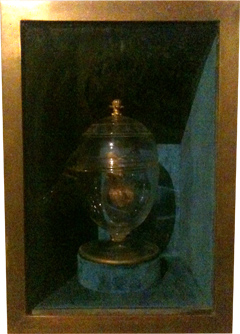 Saint Denis, France
After Saint Denis had his head chopped off back in the 3rd century, he picked it up and kept walking for a few more miles until he arrived at what is today the Basilica of Saint Denis. And there he stopped and there he stayed, laid out alongside an inventory of later medieval badasses like Clovis I and Dagobert I.

But I think the big star of the necropolis is the desiccated heart of the boy king Louis XVII. The story goes that after his parents were guillotined, Louis XVII died in prison of tuberculosis, had his corpse dumped in a mass grave and his heart carved out and smuggled away by a loyal doctor. Turns out, mDNA testing in 2000 compared the heart to a lock of Marie Antoinette's hair and found a match. Which means the relic is an actual relic and all the pretenders were actual pretenders. Either way, or both ways--narrative wins.
| | | |
| --- | --- | --- |
| | 28 July 2009 | |
Eiffel Tower, Paris, France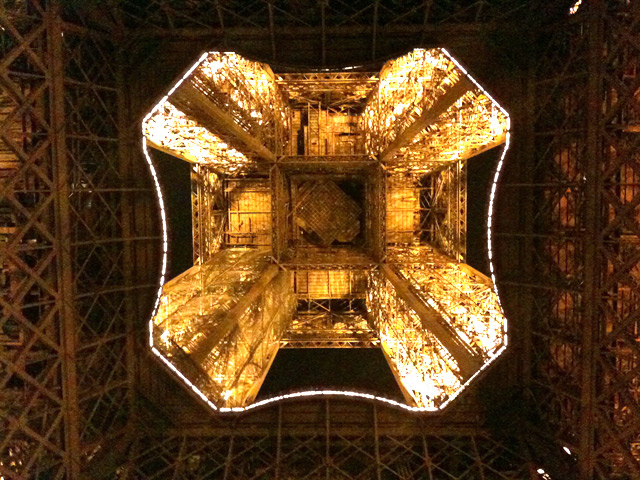 | | | |
| --- | --- | --- |
| | 24-26 July 2009 | |
WOMAD, Malmesbury, England
The WOMAD music festival started out strong, with jacuzzis in tents and lilting children selling brownies from straight outta the shire. Even when the rain hit late on Saturday night the vibe was still cheery. I spent a solid amount of time in my "luxury teepee," marveling at the air mattress below me and the rain catcher above. It turns out, you don't scoff about that stuff at all when it's actually happening to you.
---
| | | |
| --- | --- | --- |
| | 24 July 2009 | |
Oxford, England
The theme of TED Global this year is "The Substance of Things Unseen" so here are a couple sights you may only glimpse if you're a TED speaker. On the left is a view of the empty theater. The two "confidence monitors" show the presenter what's happening on the screen behind him or her. The clock in the center counts down to zero and then flashes red, for intimidation.

The Green Room is actually beige, of course, ungreen being the industry standard.
| | | |
| --- | --- | --- |
| | 18 July 2009 | |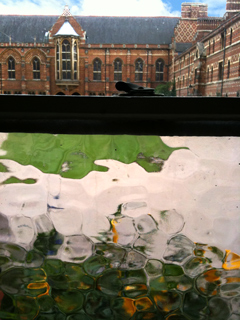 Oxford, England
This is the view of the quad from my dorm room at Keble College, Oxford University. I'm here for TED Global, which will be held in the town of Oxford annually from now on. Charmingly, mine is the room closest to Keble Chapel, which was the inspiration and model for one of my favorite trespassing locations in NYC (see my June 2 entry below).
| | | |
| --- | --- | --- |
| | 12 July 2009 | |
Dear Rives,

I got this tattoo about two and a half months ago after hearing "Mockingbird" on TEDtalks. The tattoo artist drew it after I gave him the concept and told him I wanted it to look like a doodle. This is my first tattoo, and when people ask me about it I give them a brief summary of the poem (making sure to recite the line about putting mockingbirds gently into Mason jars like mockingbird Molotov cocktails) and telling them that the poem means a lot to me because my only life goal is to help everyone get heard, and no matter who you are or where you come from, you can have this one honest mockingbird as a witness.

M.H.