| | | |
| --- | --- | --- |
| | 30 July 2013 | |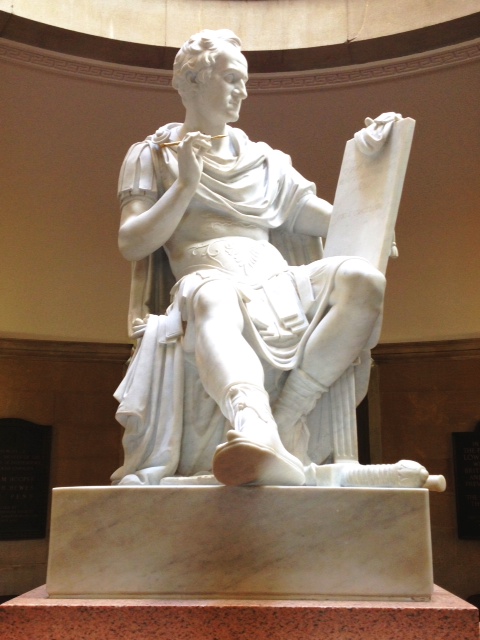 Raleigh, North Carolina
Meet "Giorgio Washington." After the War of 1812, the state of North Carolina commissioned a monumental sculpture of the first President from the legendary neoclassical sculptor Antonio Canova--who lived in Italy. Canova's marble rendition was shipped across the Atlantic on a U.S. Navy frigate and given a gala parade all the way to the rotunda of the State Capital Building where the grand citizens of Raleigh unwrapped...a Roman general, writing a message to his fellow Americans in Italian ("Giorgio Washington al popolo degli Stati Uniti; Amici e Concittadini..."). The original was turned to ashes when the State Capital Building burned down in 1831--this sculpture is a modern reproduction based on Canova's plaster moulds.
| | | |
| --- | --- | --- |
| | 29 July 2013 | |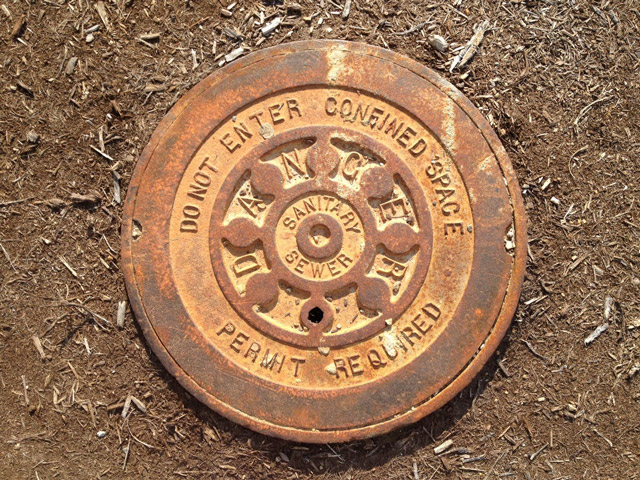 | | | |
| --- | --- | --- |
| | 28 July 2013 | |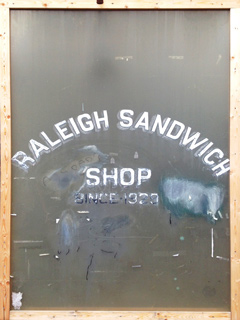 Raleigh, North Carolina
Raleigh is nicknamed "The City of Oaks." It is one point of a metropolitan area nicknamed "The Research Triangle," in a county named for a governor's daughter who married a man who was governor twice: of "the Empire State," where I live, and of "the Tar Heel State," where I am.
| | | |
| --- | --- | --- |
| | 16 July 2013 | |
NYC
Finally trespassed by flashlight in the spooky abandoned church/rectory/religious school I'd been scoping out in the East Village. I made it up to the bell tower, where the bell had just been removed for its bronze. In fact, I could see the hole in the church roof where the bell had been thrown, and the dent in the chapel floor below.
| | | |
| --- | --- | --- |
| | 15 July 2013 | |
NYC
Nelson Molina is a veteran sanitation worker who has spent the last two decades transforming his depot into a museum of trash. He started with a couple of discarded paintings to decorate his locker and now the whole sprawling second floor is a gallery of garbage (possibly not counting the full gym, completely furnished with discarded weight equipment and exercise machines). The museum is closed to the public but I was lucky enough to roll up just as Molina himself was returning from his morning route, and I scored a tour. My favorite detail? A fully decorated toilet stall in the bathroom.
| | | |
| --- | --- | --- |
| | 3 July 2013 | |
Maumee Bay State Park, Ohio
I think I expected to see Perry's Victory and International Peace Memorial from atop the Big Hill. Mostly because it's on an island in Lake Erie and features the tallest Doric column on the freaking planet. Plus it would've been nice to get some War of 1812 tourism in during the bicentennial (the Battle of Lake Erie's is this September). I settled for my first-ever swim in the Lake, attended by herons.
| | | |
| --- | --- | --- |
| | 2 July 2013 | |
Ottawa Lake, Michigan
I made a pilgrimage to this guy. I planned my whole trip to Michigan around this guy. He used to be an Abe Lincoln in Toledo but then he got the patriotic makeover and now he works a fireworks stand just off Highway 23, facing Ohio. In a few months he'll still be surveying that colossal cornfield but by then it will be a roadside corn maze, as high as an elephant's eye.
| | | |
| --- | --- | --- |
| | 2 July 2013 | |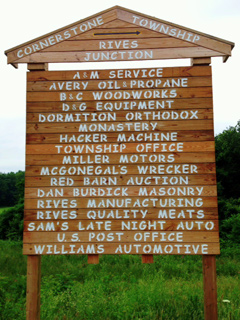 Rives Junction, Michigan
I stopped by Rives Junction just to stop by Rives Junction. Honestly--I went out of my way. Maybe if I'd had one of my brothers with me a "Rives Quality Meats" sign would've gone missing from the township but I was solo. I did drop in at the post office and send USPS postcards to family members. That's where I found out "It's pronounced Rives like dives..."
| | | |
| --- | --- | --- |
| | 1 July 2013 | |
Crooked Lake, Michigan
Crooked Lake allows camping but not skinny dipping. Pickerel Lake is the other way around.