| | | |
| --- | --- | --- |
| | 17 September 2005 | |
Gig at Alfred State, New York

Awwww, gee—my name in lights.
The "APB" turned out to be "Alfred Performance Board" and not "All Points Bulletin," which would've been conspicuously more gangsta. Yeah, I said conspicuously, yo.

The town of Alfred, which is just down the road from "Wellsville," turned out to to be one of the pleasantest places I've ever passed through on tour (even if the iron at the Saxon Inn made trauma on my dress shirt). Bells were chiming, and two guys—Abercrombie on the left and Finch on the right, is what it looked like—were playing lacrosse across Main Street as I drove in.

Also, I used the "Fall Colors" setting on my camera for the first time. In Los Angeles, fall colors are phenomena that only happen in a bowl of Fruity Pebbles, or a catalog.

The morning I left I had a run-in with a local, however. I bought a bagel and a bottle of orange juice at a cafe, and then wandered the aisles of the convenience store next door, looking for normal produce or weird candy. When I didn't find either, I walked back to my rental Taurus and tried to find a radio station I could sing along with on the rainy drive back to Rochester. And that's when the convenience store clerk tapped on my window in her convenience store shirt with a name tag that read: BUNNIE. And Bunnie looked pissed off. And then this happened:

BUNNIE (nodding towards my bottle of orange juice): Don't you need to pay for that?

ME (lifting up the orange juice): This? Oh, no—I just bought it at the Terracotta Cafe.

BUNNIE: Well then what were you doing in my store?

ME: I was looking for a banana.

BUNNIE: Well we don't sell fresh fruit.

ME: So I saw.

BUNNIE (with a real stink eye): You sure you don't need to pay for that?

ME: Nope. Not twice I don't.

BUNNIE: Well—parking is for customers only.

ME: Maybe next time. And Bunnie? Can I take your picture real quick?

BUNNIE: What? Take my picture?

ME: Yeah. It'll take two seconds.

BUNNIE: Nah, it's Friday. I don't have time for this shit.
| | | |
| --- | --- | --- |
| | 10 September 2005 | |
The project is back from the printer…


Poet Rives makes pop-up books!!!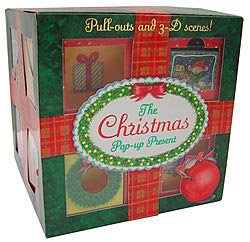 My latest pop-up creation is due to hit store shelves sometime next month. It's an "advent box" of a mouse family getting ready for Christmas. I conceived and paper engineered it, and my partner Susan Mitchell illustrated. I originally called it "The Mindfuck," but Simon & Schuster changed the title to "The Christmas Pop-up Present."

Click SLIDESHOW for a nifty little flick of the box in action.
Click INFO for more savvy.
Click PROTO to see the second-ever prototype of the box. (The first-ever prototype got designed and modified to death.)
Poet Rives makes pop-up books!!!
| | | |
| --- | --- | --- |
| | 09 September 2005 | |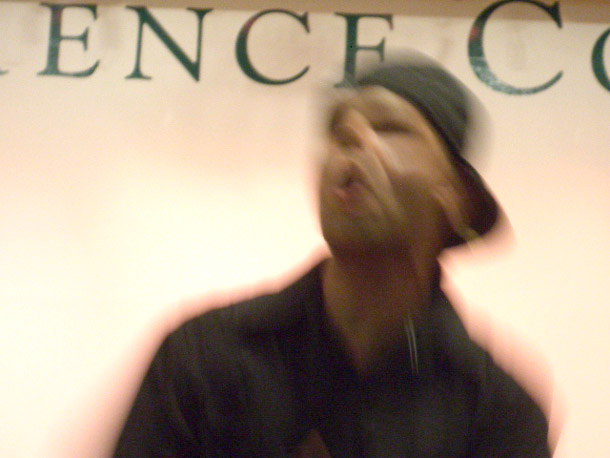 Def Poetry Jam Original (and my flat mate in Scotland) Lemon, working the Hurricane Relief Fundraiser stage at Sarah Lawrence College last night.

Lemon bobs and weaves so much during his set, all my pictures of him look like Francis Bacon paintings.
| | | |
| --- | --- | --- |
| | 07 September 2005 | |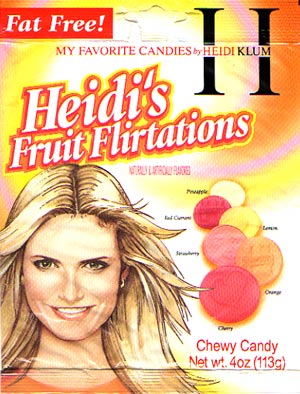 One of the prime perks of moving to a new city is sampling local candy…

So does supermodel Heidi Klum actually have her own line of fruit chews, made in Germany and imported by Hillside Candy, Hillside, New Jersey? And did she actually "design the fun shapes herself using the little icons that she puts alongside her personal text messages to her friends"? And are they fat-free?

Ja, ja, and ja.

So are they any good? See for yourself: Duane Reade, 1st Ave. and 26th.