| | | |
| --- | --- | --- |
| | 29 September 2006 | |
YouTube for Scholars, Question 4

Could Diego Maradona's "Hand of God" goal in the 1986 World Cup really be mistaken for a header?

Well yes, apparently it could, right HERE.
| | | |
| --- | --- | --- |
| | 28 September 2006 | |
YouTube for Scholars, Question 5

Did Harpo Marx (poet laureate of silence) ever speak publicly?

Well yes, apparently he did, right HERE.
| | | |
| --- | --- | --- |
| | 26 September 2006 | |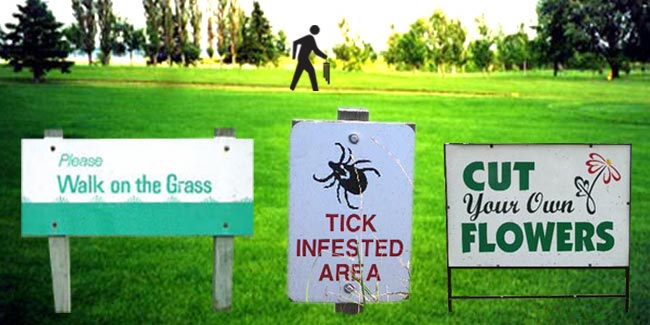 This pic was sent in by "Ascot Waistcoat," and I have to admit I'm damn impressed. It's a composite of three of my past blog entries—all signs—Photoshopped together. And people: it's a freakin' haiku. The shoplift windchimes guy may be a bit much, but I like that he's not actually walking on the grass.

This is a creative turn for Ascot Waistcoat. He (it's just gotta be a he) usually spends his time here soft-hacking this site and sending me hard-gloating emails to prove it. He recently found my new poem "What if a bear were twice as big?" in a non-public directory, so his email with this pic was titled "What if a tick were twice as big…" and he has, of course, bloated the bug up considerably (scroll down to September 6, August 28, and July 24 for the original pics).

Very clever and good for you, [email protected]. As reward or punishment—now everyone knows your email.
| | | |
| --- | --- | --- |
| | 22 September 2006 | |
Old readers/new readers…
OLD READERS: I know, I know, but look—there hasn't been a HIDDEN STORY since the first hypertale ended, so you didn't miss anything. The new "hidden story" starts today, and I've stuck it behind the righthand windchimes on my splash page.

NEW READERS: You got that? The "hidden story" is like Raymond Chandler meets Flickr meets Choose Your Own Adventure. Except I sorta choose your own adventure, I suppose. It's not a hard-core secret, but I usually only mention it from the stage (not here), then wait and see what happens. You can link to it on your most specialest myspace page but don't, you know…spoil it. Oh, and don't tell the livejournal people: their emails are usually long and full of big words.

| | | |
| --- | --- | --- |
| | 17 September 2006 | |
William Penn. Benjamin Franklin. Rocky Balboa.




What do they all have in common, besides statues in Philadelphia?

Exactly: they can't play with kites. Ben Franklin because kites don't trust him anymore. Rocky Balboa because he's not a real person, and because he's wearing heavy gloves. William Penn because he's dead.
| | | |
| --- | --- | --- |
| | 13 September 2006 | |
Okay, new rule…
If three or more readers send me the same link, I'll blog it, especially if it's particularly up my alley, I haven't seen it before, and it's fun as hell. And THIS IS.
| | | |
| --- | --- | --- |
| | 11 September 2006 | |
ATTENTION CHICAGO AREA: Tomorrow morning (8:10-8:30 Central) I will be doing a radio interview on WBIG out of Aurora. That's Aurora, Illinois, people—home of Wayne's World, which is totally why I thought it was a prank when I was first asked to do it. Sorry about that. Party on.
| | | |
| --- | --- | --- |
| | 10 September 2006 | |
Action Weekend


Those are shields, handmade by a tribe of 13-year-old boys over the weekend using more or less traditional materials: plywood, plexiglass, Velcro and drawer handles. The occasion was the first-ever "Action Weekend," supervised more or less by myself, my brother, and renowned poet Taylor Mali at a badass renovated barn in Connecticut.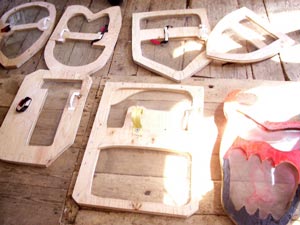 I was responsible for sarcasm and advanced swearing; my brother took blowgun production/armament; Taylor was Sage Quartermaster in Charge of Nascent Manhood and overall esprit de corps. The nine lads (code named: Ack, Calgon, Dojo, Ecko, Inigo, Jesus, Kiddo, RichChap, and Scuttle) were responsible for peach fuzz, fart jokes, toy firearms, speculative sex talk and/or Scrabble.

Luckily, the "No Girls Allowed" rule was relaxed long enough for certain people to bring over lasagna, milk and brownies (thanks, Moms). Suprisingly, everyone wore protective eye gear when required. For another account and a full slideshow of the weekend, you can link on over to Taylor Mali's website HERE. For grainy combat footage (15 seconds w/ audio) of the most successful spoken word artist in slam history whomping on some little kids, click RIGHT HERE.
| | | |
| --- | --- | --- |
| | 06 September 2006 | |
The northernmost words on Long Island
(Turtle Hill, Montauk)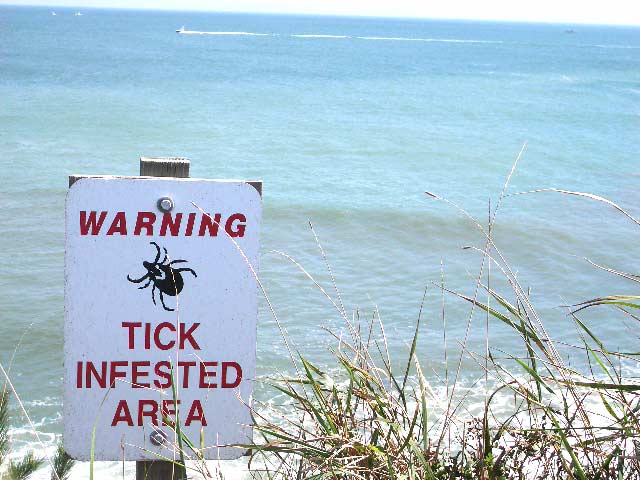 | | | |
| --- | --- | --- |
| | 05 September 2006 | |
Who would you tip first?
A helicopter pilot or a lighthouse keeper?

Really? The helicopter pilot? Yeah, me too, probably—but it seems like it should be the lighthouse keeper, doesn't it? When you think about it?
Anyway, you want to see a home movie (1 minute w/ audio) of the not-too-shabbiest way to set off for the Hamptons? As in: the Hamptons? Go ahead and click HERE.