| | | |
| --- | --- | --- |
| | 26 December 2005 | |
Who put the Me in Happy Meals?
I did. Worldwide. And I'm okay with that.

The new McDonald's "The Chronicles of Narnia" Happy Meals include little pop-up books, and I made 'em, along with my colleague Sandrine. There are eight books in all (pictured above are Books I, VI, and III), and each comes with a plastic figurine—which I had nothing to do with. You can get them at any McDonald's, while supplies last of course, and you don't even have to buy the Happy Meal. Unless you want to. To make you happy.

I think the final shipment total was something over 100,000,000 units. Which is a lot. A hundred million happinesses. But before you accuse us of being paper engineering sell-outs, to McDonald's and Disney, please remember: I have a criminal record in three states (and one U.S. protectorate overseas), and Sandrine spends her free time designing erotic pop-ups.
| | | |
| --- | --- | --- |
| | 15 December 2005 | |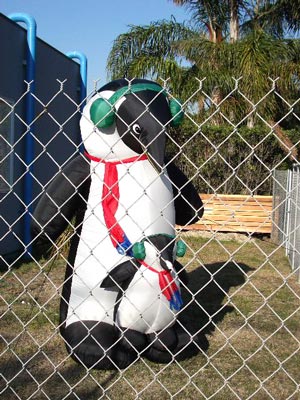 WINTER IN:
Los Angeles
| | | |
| --- | --- | --- |
| | 06 December 2005 | |
My favorite moment from the Witness gala last night…


…wasn't easing past the red-carpet-Access-Hollywood types lurking for co-hosts Angelina Jolie and Peter Gabriel ; it wasn't performing behind one of those high-falutin plexiglass podiums for the first time; it wasn't even watching Emmylou Harris sing a John Lennon tune (although that was sweet).

My favorite moment was checking in with Diana at the VIP station:
DIANA: Name please?

ME: "Rives."

DIANA (scanning down the guest list): Reed…Reed…Lou Reed?

ME: Nope.
My second-favorite moment was leaving the gig at midnight and watching snow fall in Times Square, all over King Kong.


| | | |
| --- | --- | --- |
| | 05 December 2005 | |
Lots of questions about this lately, so:


Poet Rives makes pop-up books!!!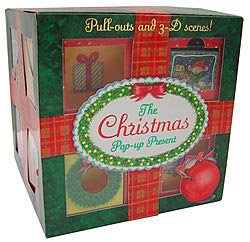 This is my latest paper-engineered creation, The Christmas Pop-up Present, now in nationwide release from Simon & Schuster. (Click SLIDESHOW for a nifty little flick of the box in action.)

If you thought I might give you one, and I haven't already—awwwwwww, poor you. I don't think it's happening. I only get 20, and I have a big hillbilly family of remedial readers to take care of.

Try a bookstore with a decent kids section, and you'll likely find it. No, I don't recommend a particular store. Or click on over to Amazon.com and buy it new for probably less than retail ($19.95). No, I don't recommend a particular vendor. Yes, I still get my royalty when you buy on-line. No, I didn't make a version for Chanukah. Yes, I like sugar cookies.
Poet Rives makes pop-up books!!!