| | | |
| --- | --- | --- |
| | 28 December 2006 | |
What's in the bag, I wonder?
| | | |
| --- | --- | --- |
| | 27 December 2006 | |
ATTENTION TEEN POETS IN THE NEW YORK AREA: I will be teaching a poetry performance workshop at Urban Word NYC every Thursday in January, with special guest Lemon on January 18. The course description is here:

This 4-week intensive workshop is for poets who would like to perform the poems they write, on small stages or big. We will offer techniques on: how to overcome stagefright, how to bring the "Wow" out of your poem, tips for using a microphone, and even how to post your best piece on a MySpace or YouTube account. All levels of ability are welcome, from shy to showy—everybody needs practice. This workshop will also have "exchanges" with the Writing Intensives workshop—for well-rounded poets!
Urban Word workshops are free, and there is no censorship on what poets write or perform. For more information click urbanwordnyc.org.
| | | |
| --- | --- | --- |
| | 21 December 2006 | |
FAQ
If you're a new visitor to this website because of the YouTube or Ted Talks links (see below): welcome and thanks for your emails. While you're here, feel free to stop by the Frequently Asked Questions section for more information.
| | | |
| --- | --- | --- |
| | 18 December 2006 | |

A performance of mine from last month has just been posted on-line at Ted Talks, if you're into that. This one was recorded at Joe's Pub (scroll down three entries in this blog for the post), but most of the other Ted Talks on the site were presented at the annual TED Conference in Monterey.

My favorites from last February were: Michael Shermer, Mena Trott, Hans Rosling…the list goes on. But if you want a genuine, extended Holy Shit! moment, check out Jeff Han.
| | | |
| --- | --- | --- |
| | 13 December 2006 | |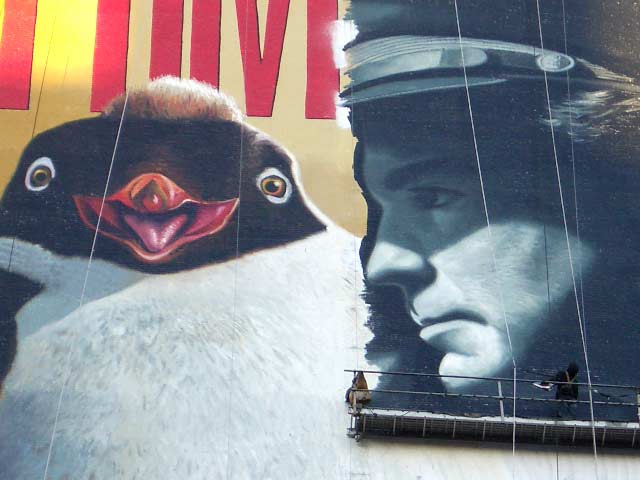 I know what you're thinking:
"Hey, that photo totally reminds me of the top-secret subterranean military base the Nazis purportedly built on Antarctica in the years leading up to World War II…"

Yeah—me too.
| | | |
| --- | --- | --- |
| | 09 December 2006 | |
So maybe this is the answer: ISBN 0-252-06849-1
| | | |
| --- | --- | --- |
| | 02 December 2006 | |
I filled in as Spotlight Poet at the The Nuyorican last night, because the scheduled performer was stranded in the Midwest by a snowstorm. I was happy to do it; the Nuyo continues to be a sort of mecca for spoken word, and since this was my fifth feature there, they tell me I just may hold the record—I certainly hold the record for a skinny white guy.

(For a short, dim and blurry p.o.v. video from the Nuyorican mic, click HERE.)

| | | |
| --- | --- | --- |
| | 01 December 2006 | |
The last time I did a gig at Joe's Pub (click HERE and scroll down to May 5 for the post), I explained that there are two types of dressing room offered to performers, Trapdoor or Spiral Staircase, and that I chose Trapdoor. So when I was invited back last night, I naturally chose Spiral Staircase.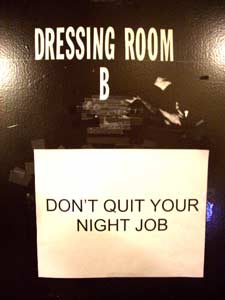 Turns out, all three staircases lead to Astor Tower, an old brick turret that John Jacob Astor had built in the 1830's so that he could survey his vast Manhattan land holdings.

At the time, Astor was the richest man in America, and Astor Tower was the second-tallest structure in New York, after the steeple of Trinty Church. It was here that Astor spent the last years of his life, an old man on a sumptuous feather bed, his only sustenance the breast milk he suckled from wet nurses whose own children had died in the cholera epidemic.

The views from Astor Tower are still excellent, and Michelle Shocked barely touched any of her fruit plate, so that was cool.